Would the Onion's "Diamond" Joe Biden Support Trump?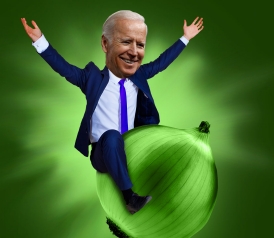 For the past eight years, the Onion has turned Vice President Joe Biden into a Trans Am–loving metal head who sets up a fog machine at the State of the Union and washes his car while shirtless on the White House driveway.

Mike Pesca: Before he was vice president, what was Joe Biden's character in the Onion?

And a lot of those details were just things I remembered from high school or something.

As you paint this guy with his love of the Trans Am and Milwaukee's Best and the bands he likes, it must have struck you that Joe Biden, the Onion's Joe Biden, is in every way a Trump voter, right?

And these are all guys who we went to high school with, and maybe they don't hate anyone, but there's something about Trump's appeal that speaks to almost every guy exactly like Joe Biden.
Read Article