Barack Obama's nostalgic goodbye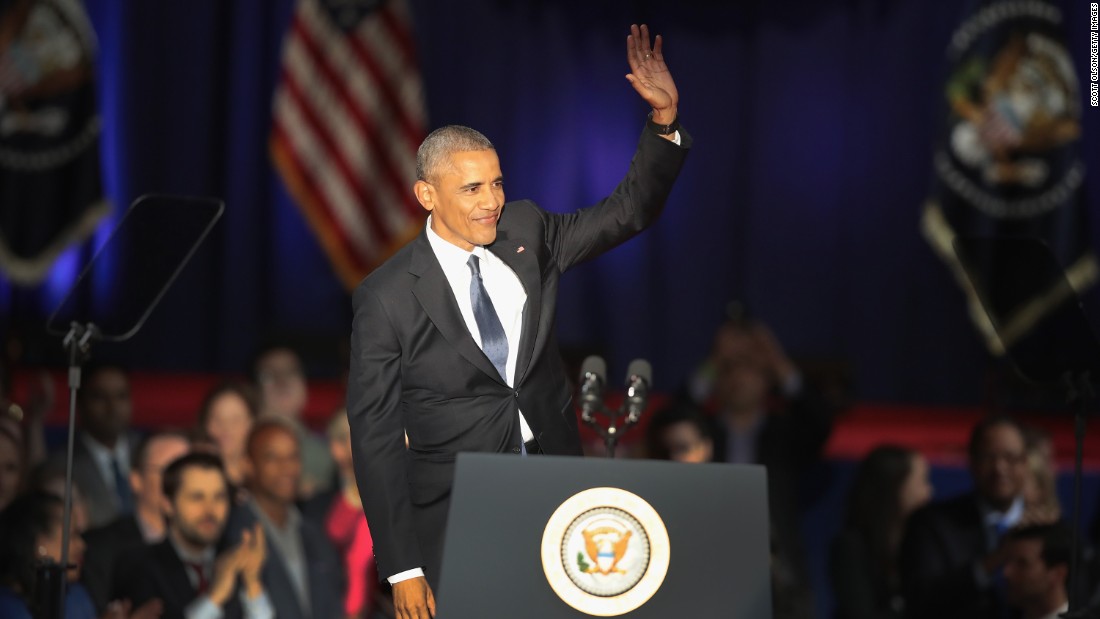 (CNN) Eight years ago, Barack Obama inspired Americans to embrace political change with the mantra "yes we can." He bade them farewell Tuesday after a historic, tumultuous presidency with the words "yes we did."

Obama revived the spirit and idealism of his 2008 campaign in a nostalgic, sometimes emotional final address to the nation from his hometown of Chicago, 10 days before he cedes power to Donald Trump, his antithesis in personality and politics.

The President stood unbowed and unapologetic after eight tough years, an unrepentant champion of hope and change.

Just as on a frigid morning in Springfield, Illinois, in February 2007 when he announced his White House bid, Obama strode on a walkway to a stage set in a huge crowd to his campaign anthem, "City of Blinding Lights" by U2.

Despite years of partisan gridlock, tarnished hopes that the nation's first African-American president could represent a post-racial age, and the uncertainty of leaving his legacy in the hands of Republicans bent on destroying it, Obama defiantly defended his belief in the capacity of politics to empower transformational social and economic change.

"If I had told you eight years ago that America would reverse a great recession, reboot our auto industry, and unleash the longest stretch of job creation in our history...," Obama said.

"If I had told you that we would open up a new chapter with the Cuban people, shut down Iran's nuclear weapons program without firing a shot, and take out the mastermind of 9/11... If I had told you that we would win marriage equality, and secure the right to health insurance for another 20 million of our fellow citizens -- you might have said our sights were set a little too high."

"But that's what we did," Obama said. "That's what you did. You were the change. You answered people's hopes. And because of you, by almost every measure, America is a better, stronger place than it was when we started."

In a speech that was as much for history as for the moment, Obama essentially argued that America is as great as it has ever been, a beacon of democracy, equality and hope. That was a not-too-subtle contrast to President-elect Donald Trump's "Make America Great Again" campaign slogan.

In many ways, Obama's speech was a repudiation of those who said he raised unreasonable expectations with his hope-fueled campaign in 2008 and failed to change the tone of politics as he had promised.

He argued passionately for progressive change, economic and gender equality, a strong social safety net, a health care system like the one set up under his Affordable Care Act, and a tax code that does not overtly benefit the rich.

While its purpose was to say goodbye, Obama's speech also felt more like the kind of campaign address he might deliver today, were he running for the White House for the first time. He spoke with the passion of a candidate, not a bowed lame duck president shuffling off into retirement.

He spoke of threats to America's political system, at a time of dislocation and turmoil across the world, beseeching his supporters not to cede the fight to improve and safeguard their democracy, sounding as though he was worried about what might happen once he has left the White House.

While touting his achievements, he painted a picture of a nation tested by racial, economic and social strains, and in comments that appeared to be a reflection on the fury and division opened by the election in which Trump beat Hillary Clinton last year.

"There have been moments throughout our history that threatened to rupture that solidarity. The beginning of this century has been one of those times," Obama said.
Read Article