Pogba v Pogba the sideshow, Ibrahimovic the star as Man Utd march on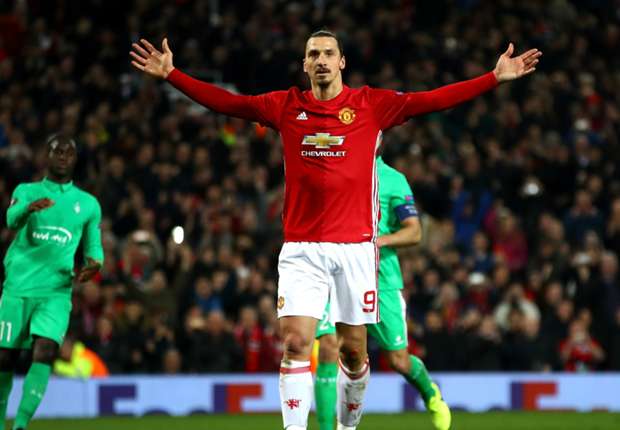 The 23-goal striker is the main story once more, despite the showdown of brothers, as United take a huge leap towards the last 16

Amid all the Pogba v Pogba build-up, it was almost forgotten just how much Zlatan Ibrahimovic loves scoring goals against Saint-Etienne. But the giant Swede ensured that it was his name on everybody's lips by full-time by netting all three goals in Manchester United's 3-0 Europa League win at Old Trafford on Thursday.

Ibrahimovic's 15th, 16th and 17th goals against Les Verts gave United what should be a winning lead heading to France next week, with Paul getting one over brother Florentin in the sibling battle which had grabbed the continent's attention pre-match.

The intervention of Ibrahimovic will have pleased manager Jose Mourinho in particular after the away side had threatened to take advantage of tactical shortcomings in the first half before the Portuguese eventually led his men through with important substitutions at the right times.

Ibrahimovic's low drive from a free-kick in the 15th minute took a heavy deflection off Vincent Pajot which left keeper Stephane Ruffier easily beaten, and Saint-Etienne's early pressure had quickly been overcome.

Despite their lead and a period of something approaching ascendancy which followed, United were too often opened up in their own half as the French side capitalised on a complete lack of cover for the over-worked United back four.

Time and again Saint-Etienne forced late blocks from Eric Bailly and Chris Smalling or were allowed to fire shots just off target as Kevin Monnet-Paquet and Romain Hamouma in particular made hay down United's right.

While Mourinho had seemingly set up his side in a loose 4-3-3, Ander Herrera was regularly the only man even attempting to do any defensive work in front of the defence. Paul Pogba and Marouane Fellaini were notable by their absence as Jordan Veretout and Pajot were able to set their attackers up at will, and it was no shock when Fellaini was replaced by Jesse Lingard at half-time and United reverted to a more familiar 4-2-3-1.

One man who shone in both formations was Anthony Martial, following on from his goal-scoring display against Watford on Saturday with another compelling performance.
Read Article