Record-breaking Federer goes past Sampras, Renshaw - Rediff.com Sports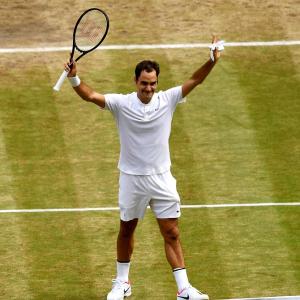 (Age: 35) GRAND SLAM TITLES (19): Australian Open 2004, 2006-07, 2010, 2017; French Open 2009; Wimbledon, 2003-2007, 2009, 2012, 2017; U.S. Open 2004-2008 * Bursts on to the scene in 2001 when he ends Pete Sampras's 31-match winning streak at Wimbledon in the fourth round before losing in quarter-finals.

PLAYING CAREER * Only man to win five consecutive titles at two different Grand Slams -- Wimbledon and US Open.

* Breaks American Pete Sampras's record of 14 Grand Slam titles with his 15th win in the 2009 Wimbledon final to reclaim the world number one spot from Nadal.

* His record run of reaching 23 consecutive Grand Slam semi-finals is snapped by Robin Soderling in the last eight of the 2010 French Open.

* In 2006, he reached all four grand slam finals, winning in Australia, Wimbledon and the US among a haul of 12 titles and a 92-5 win-loss record.
Read Article