Steve Bannon, troll-in-chief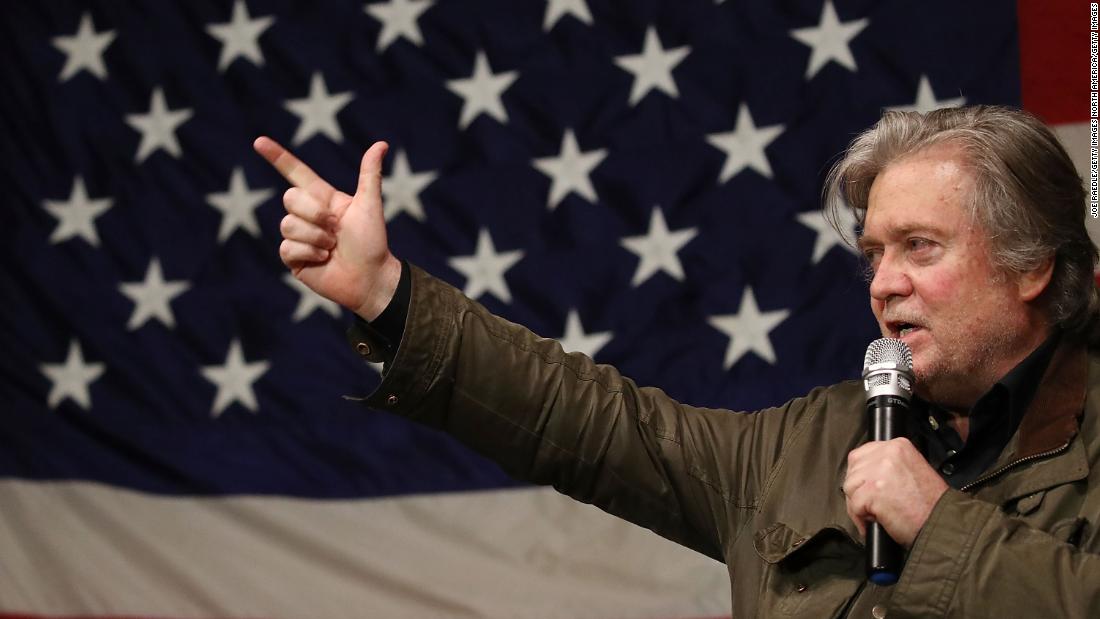 (CNN) Steve Bannon left the White House in late August, about seven months after President Donald Trump arrived. But even at a distance from power, his words remain a constant source of frustration and angst for Democrats and, perhaps more often, Republicans.

When rumors of a bust-up with Trump began to spread, Bannon pushed back, telling Bloomberg News his departure was a faithful one, and that he was "going to war for Trump against his opponents -- on Capitol Hill, in the media, and in corporate America," r

Since then, Bannon has mostly focused on electing a band of candidates less identifiable for any shared ideology than a collective promise to rile the party establishment — and keep his own name in the headlines. It made perfect sense then, as the Washington GOP worked (unsuccessfully) to ward off Roy Moore's primary challenge to Sen. Luther Strange in Alabama, that Bannon dug in and got busy campaigning for Moore.

Republican leaders "think you're a pack of morons," Bannon told Moore's supporters in September. "They think you're nothing but rubes." A few days later, the former judge defeated Strange by nearly 10 points.

On Tuesday night, Bannon reprised that line and some other old standards during a return performance, a week ahead of Moore's special election contest with Democrat Doug Jones.

Performance is an important word here, because Bannon is an undeniably talented political performer. His remarks in Fairhope lit up social media, as partisans and other observers tracked (and tweeted) his every utterance. The loudest responses were typically angry or disbelieving. It was, in his dark way, a masterclass.

Bannon's capacity for triggering opponents and befuddling neutral observers with slickly argued but intellectually disingenuous rhetoric is now, in his capacity as a kind of glorified freelance political operative, the most effective element of his act. Does he want to burn down the Republican establishment, sowing internal divisions while directing donor cash toward his preferred candidates? Very much so. But it is his trolling -- the wind-ups, the insults -- that separates him from so many others who'd try to do the same.

His attachment to Trump -- who has since the firing kept close to Bannon's rhetoric, if not his economic populist policy ideas -- helps too. Targeting Sen. Jeff Flake, even before the Arizona Republican announced plans to retire rather than seek re-election in 2018, by backing Kelli Ward, said more about Flake and Trump's (bad) relationship than Ward's prospects (also bad). Rep. Dan Donovan in New York, hardly a boldface GOP establishment figure, is also in the Breitbart man's crosshairs. Bannon is supporting Michael Grimm, a felon trying to win back the seat he gave up in disgrace, in that primary. Why? Well, given the challenger's priors, it's certainly going to attract attention.

In Alabama on Tuesday, the game was on display in its purest form. In the space of about 30 minutes, Bannon took repeated shots at the media, joking at one point that a heckler in the crowd was a "CNN producer."

"We got 'em all here," he said. "By the way, they're all here today. All of 'em. The Financial Times of London. The New York Times. The Wall Street Journal. Now, why they down here in Alabama? In Fairhope on a rainy night. You know why?"

Bannon, a longtime media executive, surely did. He understands the narrative. Like his old boss, he adores the media. With a vote coming, reporters there wanted to hear what he would say -- and from there, read into how the Trump wing of the party might be viewing the race. But that, of course, is not what Bannon said. He's a performer, after all, and he delivered a crowd-pleaser in reply.

"They understand that you're the power," he told the audience. "The real power behind the greatest nation on earth." Reporting on allegations that Moore had sexually abused teenage girls decades ago -- or efforts to "destroy" him, as Bannon put it -- meant "they can destroy you."

He was only beginning. Before ceding the stage, Bannon would sashay into an extended riff on Arizona's Flake. Earlier in the day, Flake, a Trump critic, had tweeted a photo of a check he'd cut to Doug Jones. It was for $100. Flake wrote, in the memo field, "Country over party."

Bannon could barely contain himself.
Read Article