Mitt Romney Is Not an Anti-Trump Hero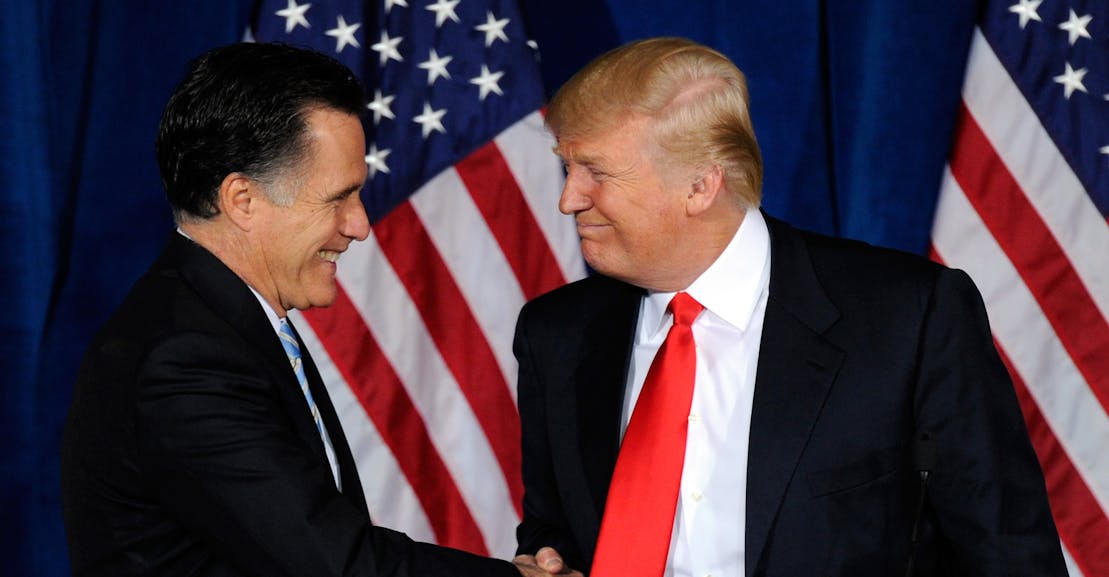 Long before criticizing candidate Trump, Romney legitimized him and even set the stage for him. Romney welcomed Trump's endorsement during the 2012 GOP primary, even though Trump's most famous political stance was Birtherism. By doing so, and appearing on stage with Trump, Romney gave his stamp of approval to Trump's racial politics. The campaign that Romney ran that year, with its emphasis on immigration restriction and nostalgia for alpha-male managerial expertise, was a forerunner to Trumpism. Romney's electoral strategy was based on maximizing the white vote, which Trump imitated (and proved more successful at it).

As Douthat tweeted in December of 2015, Romney and Trump had much in common:

Given these commonalities, it wasn't surprising that Romney was willing to degrade himself in a craven bid to become Trump's secretary of state, which squandered his credibility as a critic of the president and generated a famously cringe-inducing photo. 



Romney's humiliation wasn't just a personal matter, but follows a pattern we've seen in other Republicans like Lindsey Graham who were brave critics of Trump, but eventually debased themselves before him. This tendency is all the more likely in members of Congress, who are in a co-dependent relationship with the president. Like other Republican senators, Romney would find that he can only exercise power to the extent he agrees with his party and its standard-bearer.

There's a further problem with Romney: If he became the face of Republican opposition to Trump, then he would make that movement seem old and tired, tied to the failed Republican establishment that made Trump attractive.
Read Article